From OpenSPIM
Configuring µManager for µOpenSPIM
This site provides guidance on how to configure µManager so that an OpenSPIM can be operated using µOpenSPIM. Here one can learn how a working .cfg file is created, how multiple cameras are added to µManager and how an ArduinoUNO board has to be configured. Because every OpenSPIM system is typically equipped with different devices, it should be kept in mind that all step by step guides are written with respect to the X-OpenSPIM currently operating in the Tomancak lab.
Take a look at the figure below, to quickly get an idea how the different devices are wired in the described X-OpenSPIM. The system is equipped with an ArduinoUNO. Its full circuit is shown schematically. Also necessary settings specified in µManager are also shown. Note that the Camera and Channel Groups are optional.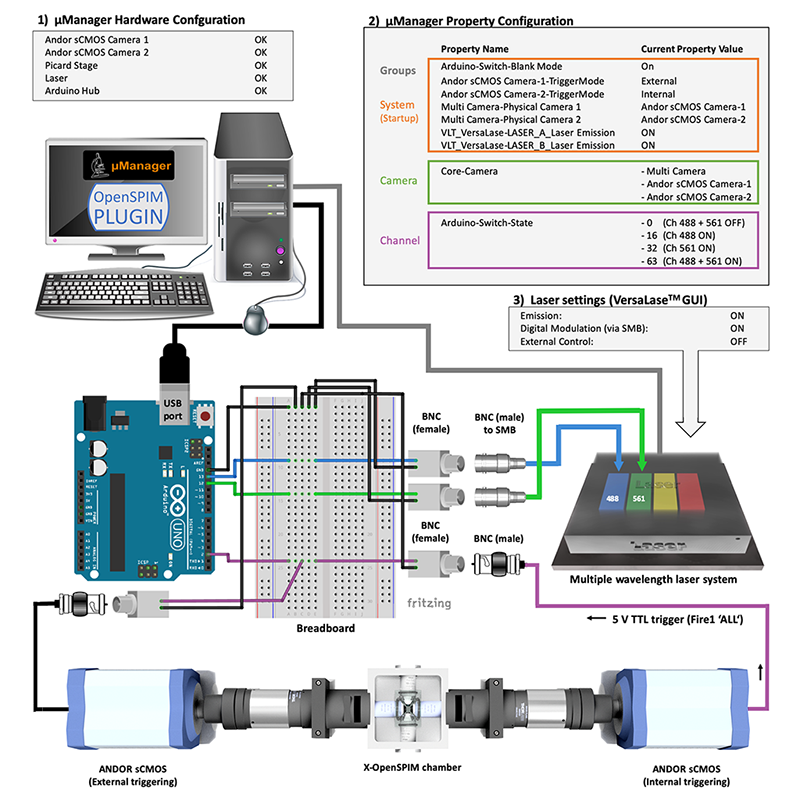 Figure 1 - Arduino circuit to control two lasers and two sCMOS cameras in an X-OpenSPIM.
Creating a working .cfg file using µManager's Hardware Configuration Wizard
The following video shows how a working .cfg file was created from scratch for the following X-OpenSPIM using µManager's Hardware Configuration Wizard.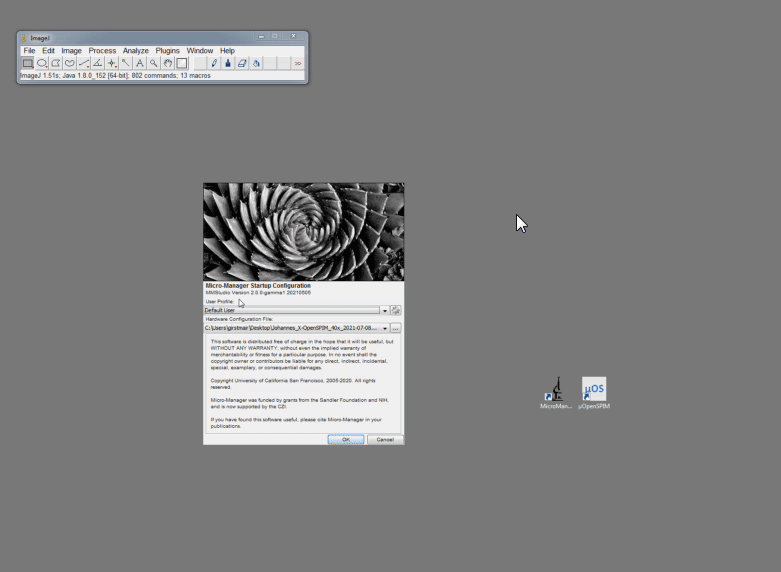 Video 1 - How to create a .cfg file.
Regarding the Picard USB 4D-Stage, make sure that the "StepSize" for the X-, Y-, and Z-Stage is set to the precise value of 1.524 and also the "Max" value (maximum stepper motor range) is set to 8839 as show in the video above.
Configuring multiple cameras in µManager (X-OpenSPIM)
The following step by step guide and example video below demonstrate how to configure two sister cameras (2x Andor sCMOS Neo 5.5) in µManager to function as a single logical camera (Multi-Camera).The configuration is facilitated by the fact that both cameras are of the same type.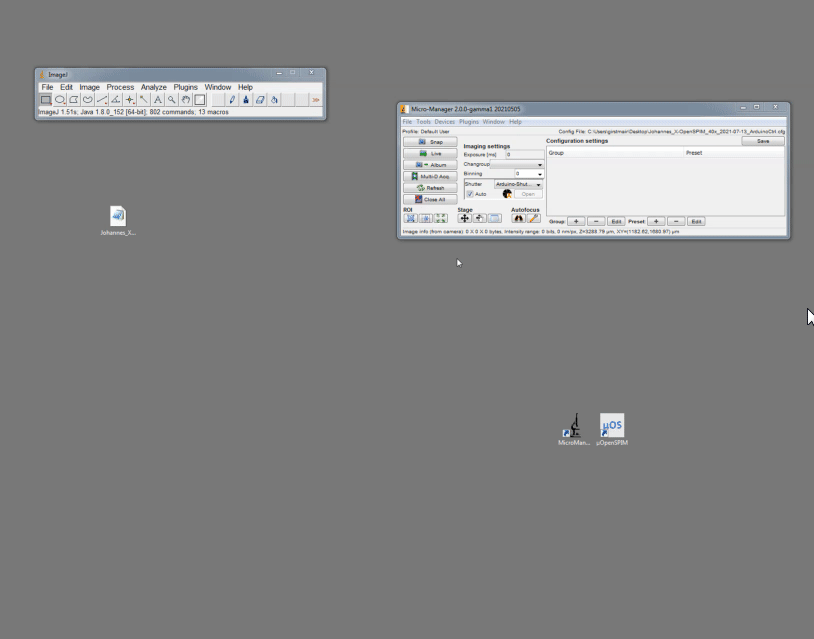 Video 2 - How to configure two sister cameras in an X-OpenSPIM.
For multi camera imaging we recommend using a decent acquisition computer. E.g., we use a HPZ820 workstation with multiple processors and, notably, found that enabling the non-uniform memory access (NUMA) in the BIOS greatly improves image acquisition stability.
Pixel size calibration
It is also important to calibrate your Pixel Size correctly. To do this in µManager go to Devices > Pixel Size Calibration and specify the Pixel Size (µm). Before you can OK, you have to select at least one of the devices from the "Property Name" table, e.g. Core-Initialize. Now click OK and save/overwrite the current configuration file.
If you don't know the correct Pixel Size value for your OpenSPIM system check:
Once you gathered the information the following formula can be used:
+++++++++++++++++++++++++++++++++++++++++++++++++++++++++++++++++++++++++++++++++++++++++++++++++++++++++++++++++++++++
Image Pixel Size = Camera Pixel Size x Binning / Magnification of the Detection Objective x Camera Mounts x Zoom Optics
+++++++++++++++++++++++++++++++++++++++++++++++++++++++++++++++++++++++++++++++++++++++++++++++++++++++++++++++++++++++
As an example: Our two Andor sCMOS Neo 5.5 cameras have 6.5 µm pixels and the X-OpenSPIM is equipped with 40x detection objectives (CFI Apochromat NIR 40X W, Nikon). Camera mounts retain a 1x magnification and there are no additional zoom optics installed into the detection axis.
Therefore we have a Image Pixel Size of 6.5 x Binning / 40 x 1 x 1, which equals a Pixel Size value of 0.1625 µm. We don't worry about the Binning as µManager is taking this into account automatically.
Setting up an ArduinoUNO microcontroller in µManager for Camera-Laser synchronization
The following steps depict how an ArduinoUNO board can be configured to enable hardware-controlled triggering of two laser lines (in our case a 488 and 561 laser; see also Figure 23). If one is not yet familiar with µManager's Hardware Configuration Wizard, its Device Property Browser and how to create Configuration "Groups" and "Presets", we recommend first reading through µManager's Configuration Guide. You can also watch the video below to see how an ArduinoUNO board is configured for camera-laser synchronization in an OpenSPIM in the same way as described below.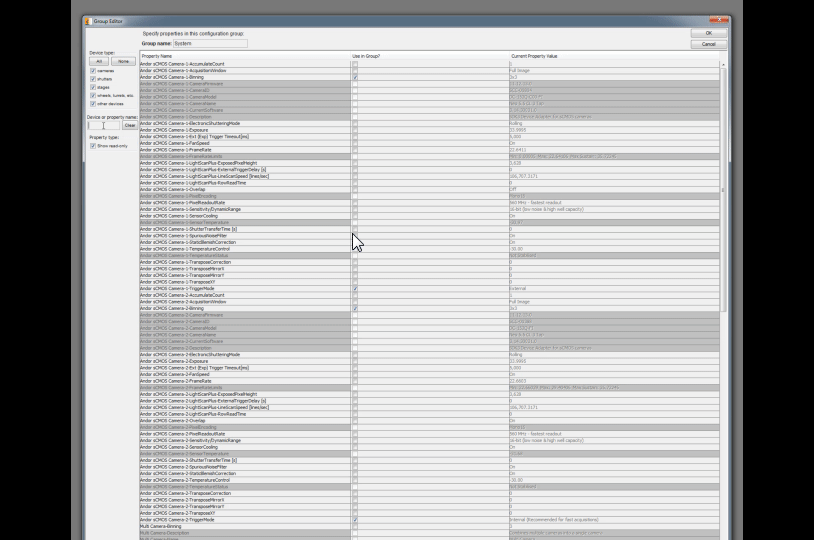 Video 3 - How to configure an ArduinoUNO board in µManager.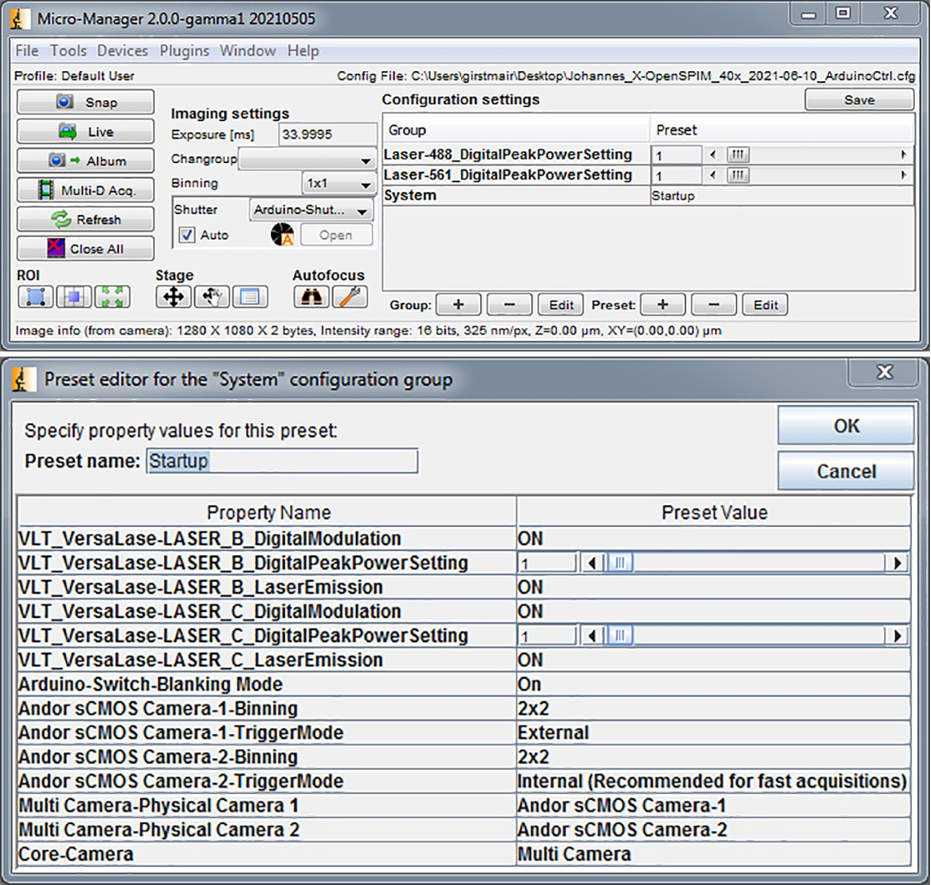 Figure 3 - Multi camera, Laser and Arduino "Startup" preset values for a newly created "System" configuration group in µManager.